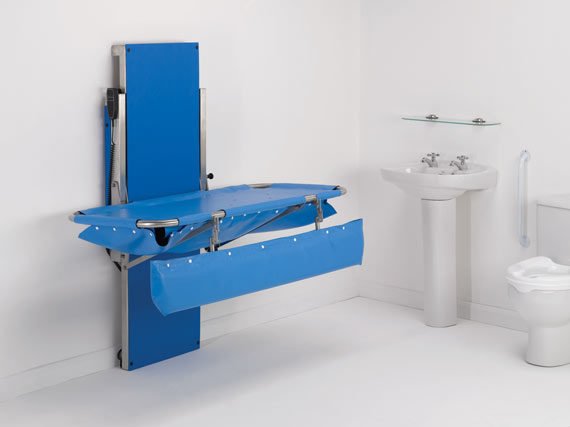 Freeway Hi-Riser Shower Stretcher
Prices from: £4,132.99
View Assessment Information
Enquire Now

Free, no obligation visit from an expert assessor to determine your exact needs and survey your building to determine the most suitable solution.

AVAILABLE VAT EXEMPT - Confirm eligibility at checkout.
Product Description
The Freeway Hi-Riser Shower Stretcher is an easy-to-use, two-in-one wall and floor-mounted showering and changing table. Its robust yet slimline design makes it suitable for adults and children of up to 150kg.
The Freeway Hi-Riser Shower Stretcher is an ideal solution for bathrooms as well as swimming and hydrotherapy environments. Reinforced with PVC, the Freeway Hi-Riser Shower Stretcher is supportive and comfortable to lie on.
The Freeway Hi- Riser Shower Stretcher is available in two sizes, and comes complete with a padded safety rail.
Features & Benefits
No floor fixings
Changing and showering in one
Comfortable and supportive
Stainless steel construction
Easy to clean
Excellent height range for easier handling
On-site surveys and design service
Installation and on-site servicing
Warranty Information
Two Year Warranty*
For peace of mind, all Freeway Easi-Change products come
with a two year Manufacturers warranty as standard.