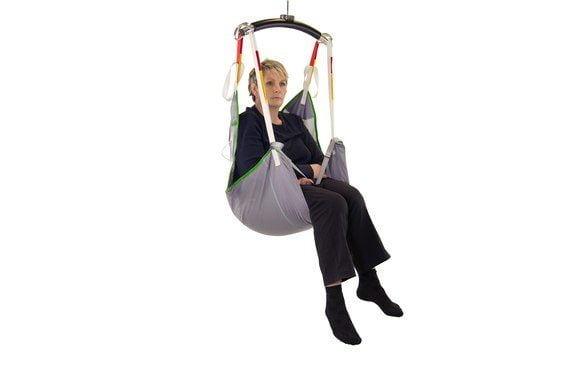 Mackworth Pine Hammock Sling
Prices from: £78.99 – £171.99
Enquire Now

AVAILABLE VAT EXEMPT - Confirm eligibility at checkout.
Product Description
Although this product is cut to provide multi-application, our alternative hammock sling is particularly useful for amputee patients. This item can also be cut as a specialist product, allowing toileting procedures as required.
Manufactured from a variety of high-grade materials and sizes to meet variable patient demographics. Pine is also available with a differing loop webbing selection, or alternatively our patented Cloop® or Dosec® clip designs.
A multitude of heights can be achieved while ensuring transfer security throughout the complete lifting procedure.
Materials

Polyester Solid (Grey)
A smooth knitted polyester fabric of a solid consistency for multidisciplinary use. (Image shown at 200% of the original image)

Polyester Mesh (Grey)
A versatile, breathable and durable polyester mesh, used mainly for bathing/pool use.  (Image shown at 100% of the original image)

Quilted (Grey)
A padded and quilted polyester fabric which enhances patient comfort. (Image shown at 25% of the original image)

Supersoft Spacer (Black)
A "supersoft" breathable, stretch capable fabric, which is also padded for comfort during longer periods of transfer. (Image shown at 100% of the original image)
Features & Benefits
Specialist pattern design suitable for amputees
Option of patented Dosec® clip provides total security and stability
Webbing pocket – allows tidy storage of webbing, when not in use
Colour coded straps or clips – height adjustable for multi- patient application
Embroidered weight & serial number label – LOLER compliant – does not wash out at high temperatures
Colour coded binding – determines sling size by use of a neat boundary
Additional Product Information