Prism Patient Specific Universal Sling with Half Head Support
Prices from: £29.99
Enquire Now

AVAILABLE VAT EXEMPT - Confirm eligibility at checkout.
Product Description
Combined with the Universal Sling design, the Patient Specific Universal Sling with half head Support is a disposable sling designed to help reduce cross infection in Hospitals.
The Universal sling is designed for ease of fitting and general purpose transfer. It can be used to transfer from the seated to recumbent position or from recumbent to seated. The person must be assessed by a competent person who must be fully trained in the suitability, application and fitting of the sling. Carers should always be trained in the use of hoists and slings.
As the name suggests, this particular sling features a half head support, making this ideal for users who require a general purpose sling which offers some extra support whilst being hoisted to and from a supine position.
Although the sling is designed not to be washed there is no restriction on the number of transfers.
The slings are made of a non-woven polyester which will not weaken when wet as other paper based disposable slings can.
When the sling becomes dirty, shows excessive signs of wear and tear or is no longer required it can be disposed of.
Features & Benefits
Universal Sling Key Features & Benefits
Side straps even the weight distribution, making the sling more comfortable
Head support gives added comfort and support during transfers
Quilted leg sections and no binding on outer leg section for added comfort
Generous commode aperture for toileting
Technical Specification
Prism Slings are available in a number of sizes depending on the sling of choice. Please note that a free assessment is available on all Prism brand slings.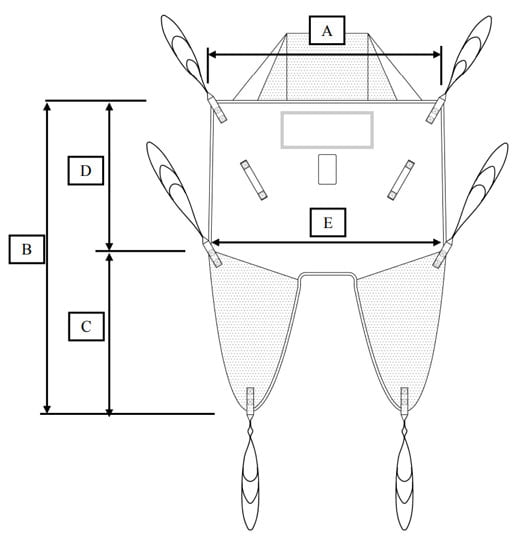 Notes:
Dimensions are in millimeters.
All slings are available with or without head support
All dimensions have a tolerance of +/- 20mm
Prism Slings include colour coded bindings around the edge of the sling to help identify the sling size. Sling sizes are in accordance with the maximum weight capacity as indicated in the table below.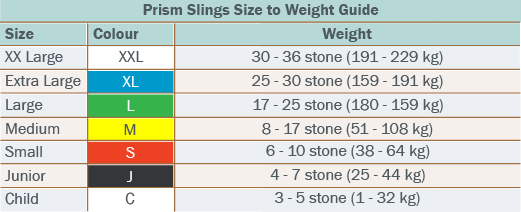 The sling sizing is for guidance only – an assessment should be conducted by a competent person in order to determine the correct size of sling for the individual.
XX Large slings are available on request with an assessment.