What are Changing Places?
Changing Places are fully accessible toilets designed for individuals who cannot use a standard toilet independently. The campaign strives to make all types of venues become completely accessible to everyone.
All Changing Place facilities should offer sufficient space for a disabled person and up to two carers. The space should provide the following:
A height-adjustable, adult-sized changing bench
A ceiling track hoist system
Adequate space for manoeuvring (at least 12 square meters where possible)
A centrally located toilet, with space on either side for carers
A screen or curtain to give privacy
A wide paper roll dispenser for covering the bench
A large waste disposal bin
Non-slip flooring
What does a typical Changing Place look like?
The following is an example design with a central door layout, as detailed in the Changing Places Practical Guide.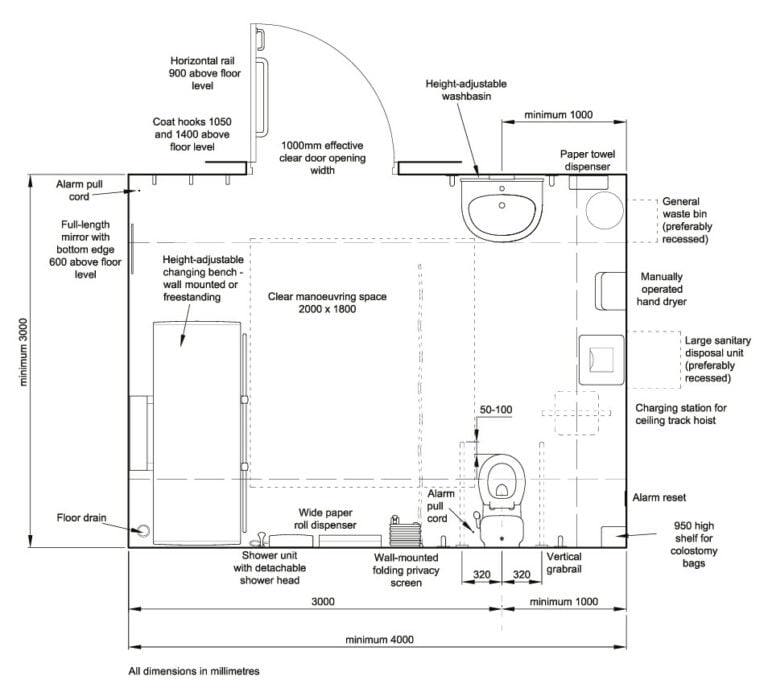 Prism Medical Changing Places Toilets
As a trusted leading UK manufacturer of specialist care equipment, we are proud to have installed several Changing Places toilets across the UK.
Why choose Prism Medical?
We're in this together, here to make life – and care – easier for all.
Prism Medical UK
We could only have completed this project with your kind input and equipment. This is going to make a huge difference. The community now have a fully accessible and equipped changing place for any persons in need, and we have a state-of-the-art training facility, allowing us to teach moving and handling and safe hoist use. Our overall experience working with Prism Medical UK has been extremely positive, and I would have no hesitation in recommending you to future clients.
Darren Roberts
My Life
UK manufacturer with over 22 years experience
Free expert design, specification and planning advice
Free no obligation quotations
Comprehensive installation service
Full project support from start to finish
Our Changing Places Products
Please find below our product range suitable for Changing Places toilets. Should you wish to discuss your requirements with one of our specialists, please
get in touch with us.