Prism Medical UK is pleased to be able to offer additional features to our popular Freeway shower chair range. With its modular design, the Freeway Height Adjustable shower chair is a highly versatile assistant-propelled shower, toilet or commode chair and is available in various widths. The design features anti-tangle swivel castors, which provide a smoother ride for the user and include an obvious red brake lever making it easy to see if the brake has been applied. The castor design also prevents the build-up of dirt and hair, ensuring the wheels don't become blocked and reducing the need for ongoing maintenance.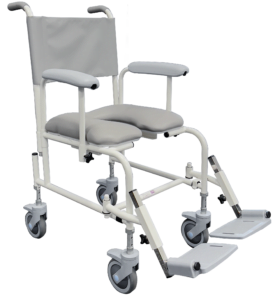 Benefits of the Freeway Height Adjustable shower chair:
High quality – Manufactured in the UK from UK-sourced raw materials.
Durable – Built-to-last, robot-welded steel frame and non-rust components.
Hygienic – Antimicrobial powder coating prevents the growth of harmful bacteria.
Service free – Anti-tangle castors prevent dirt and hair from clogging the wheels.
Modular design – Allows total configuration to suit the client's needs.
Cost-effective – Parts can be easily added or changed to suit the client's changing needs.
Comfort – A variety of seat options and sizes are available.
Configuration options on the Freeway Height Adjustable include:
Height-adjustable frame – The chair's seat height can be adjusted from 510mm to 560mm in 25mm increments. This makes it easier to use with toilets of varying sizes, so it can be used to care for people with multiple needs and locations.
Seat choices – A range of options are available, including width, type and cover. This gives maximum comfort to the user and can be easily changed later.
Additional accessories – Various backrest, armrest and footrest options are available, allowing you to design a chair that meets the client's needs and works in the space available.
If you'd like to learn more, please visit our website's
Freeway Height Adjustable shower chair
 page or
get in touch
.