Prism Medical UK is pleased to add Freeway Flow to its range of bathing aids. The new tilting shower cradle provides a secure and stable platform for showering, making it particularly advantageous for the elderly or disabled.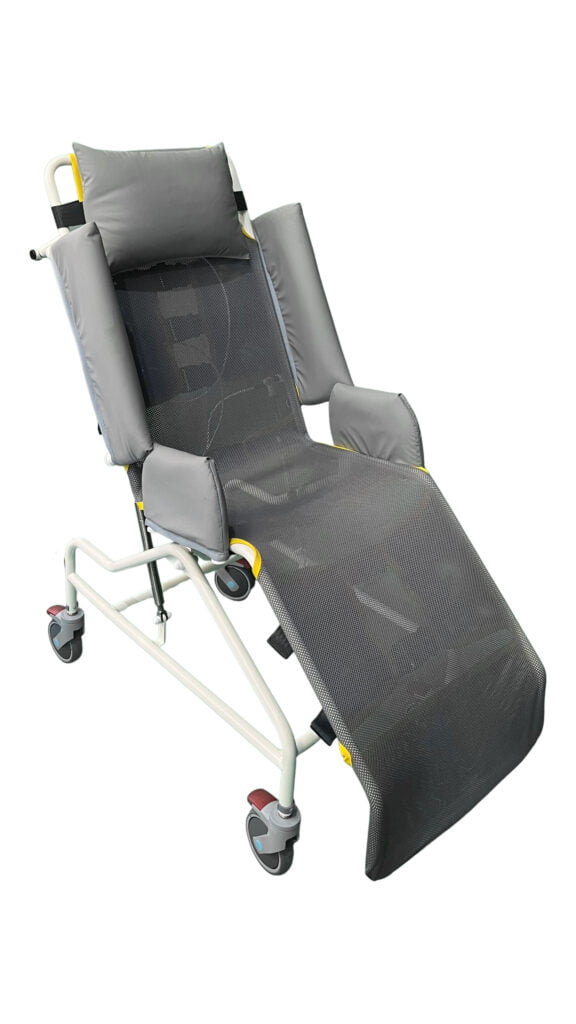 The shower cradle is the natural progression for individuals who require more support and stability than a traditional shower chair can provide. Available in various widths, the cradle is designed to fit most showers and comes with a range of features that make it both comfortable and hygienic.
The shower cradle is easy to install and use, with a range of features that make it a comprehensive solution. These features include service-free, anti-tangle swivel castors that provide a smooth and effortless ride, an obvious red brake lever that makes it easy to tell whether the brake has been applied, and a hand lever tilting mechanism that allows the frame to tilt from 5 to 35 degrees, providing greater comfort and support for the user. The height-adjustable frame allows for manual height adjustment to three set heights in increments of 25mm, providing greater flexibility for the user.
Benefits of the Freeway Flow shower cradle include:
High quality – Manufactured in the UK from UK-sourced raw materials.
Durable – Built-to-last, stainless steel frame with non-rust components and long-lasting mesh.
Hygienic – Antimicrobial powder coating prevents the growth of harmful bacteria, while the removable cover is machine washable and easy to wipe clean.
Easy to use – Simple to operate hand lever and dual gas struts provide a smooth, reliable tilt. The colour-coded fabric helps to identify the fabric size quickly.
Service free – Anti-tangle castors prevent dirt and hair from clogging the wheels.
Comfort – The quick-drying mesh offers a comfortable resting position, and various sizes are available to suit the user.
Flexibility –The height can be changed to suit the environment and user needs and various accessories can be added to provide additional comfort and security.
Optional accessories include:
Padded upper or lower-side rail for an increased feeling of security
Head cushion for added comfort
Lap belt for additional security
Commode pan and tray kit
Aperture hole opening to allow for the addition of a commode pan
Overall, the shower cradle is an excellent option for individuals with limited mobility who want to maintain independence and dignity while bathing. Its various features, including the swivel castors, tilting mechanism, height-adjustable frame and removable mesh fabric, make it a versatile and convenient accessory for any bathroom.
If you'd like to learn more, please visit our Freeway Flow shower cradle page or get in touch.