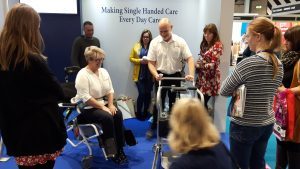 Join us for an interactive day where we'll demonstrate the practical solutions to Single Handed Care, using the latest moving and handling equipment.
We'll also provide expert advice as to how this can be applied to your setting and clients.
Our practical, hands-on workshop is CPD Certified and will include the following sessions:
• Single Handed Care dealing with dementia and challenging behaviour
• Single Handed Care transfers for adults
• Single Handed Care approaches for plus size clients
The workshop is ideal for those requiring an introduction to Single Handed
Care or who want to enhance their existing programmes.
Free lunch and free parking provided!
Places are limited- so please secure your place by registering in advance by clicking this link: https://www.eventbrite.co.uk/e/making-single-handed-care-everyday-care-registration-38078187885?err=29