In times of emergency, the safety and well-being of individuals with limited mobility is paramount. The Prism Evacuation System is a reliable solution when evacuating those in need.
1. What is the Prism Evacuation System?
The Prism Evacuation System is a specialised apparatus designed to ensure the swift and secure evacuation of individuals with limited mobility during emergencies. While emergency evacuations may be infrequent occurrences, it is vital to be prepared. This system has been meticulously crafted to provide a seamless and efficient means of transferring individuals to safety, particularly those with limited mobility.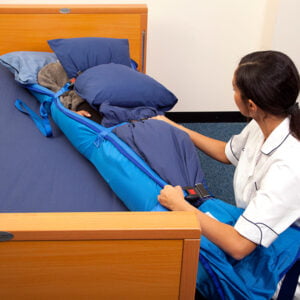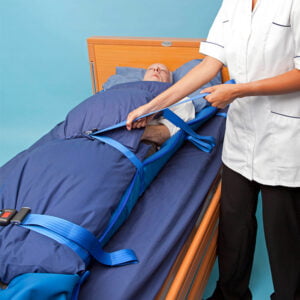 2. How does the Prism Evacuation System work?
During an evacuation scenario, the Prism Evacuation System comes into its own by facilitating a safe and swift transfer process. The individual in need of evacuation can be comfortably secured within the system using its adjustable straps, after which they can be smoothly transported to a place of safety. Whether transitioning from a bed or another surface, the Prism Evacuation System provides the necessary support and ease of transfer, ensuring the user remains stable throughout the process.
The system incorporates bone supports, enhancing the protection and support offered during evacuation procedures.
3. What are the features and benefits of the Prism Evacuation System?
The Prism Evacuation System boasts a range of features that make it an ideal solution for emergency evacuations:
Safety First: With a robust, safe working load of 190 kg (30 stone), the system offers peace of mind to users and caregivers, ensuring safe and secure transfers.
Comfort and Security: The system is designed for user comfort, featuring adjustable padding that enhances comfort and safety during evacuation.
Multiple Grip Points: Vertical and horizontal looped handles are incorporated, providing caregivers with various secure grip points for more controlled and safer transfers.
Adaptability: The adjustable straps of the Prism Evacuation System can accommodate individuals of varying sizes, ensuring that it can be effectively used for a wide range of patients.
Hygiene and Maintenance: For ease of use and upkeep, the system is easily wiped clean, maintaining hygiene standards in all situations.
Compact and Convenient: When not in use, the Prism Evacuation System can be neatly stored in its carry case, ensuring that it is readily accessible when needed most.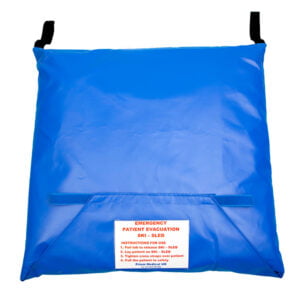 The Prism Evacuation System offers a lifeline during emergencies, providing a secure and efficient means of evacuation. Whether in a healthcare facility, residential setting, or any environment where mobility is restricted, the Prism Evacuation System stands ready to ensure that those in need are swiftly and safely transported to safety.